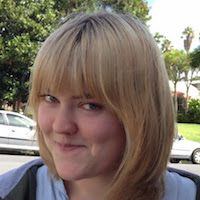 Alice
Alice Gatland studied Mechanical Engineering at the University of Auckland. She is a radio producer and host at 95bFM, and previously worked at the University of Auckland's Photon Factory.
Alice is passionate about helping more women get into technology careers. She has taught programming at dozens of events for Auckland Libraries, Gather Workshops, and OMGTech.
Listen to Alice talk about Girl Code on bFM:
Matthew
Matthew Gatland studied Software Engineering at the University of Auckland. He is a video game developer and was previously a senior software engineer at Orion Health.
Matthew has spent many years in the tech industry and knows about the opportunities and challenges of the field.
He has given career talks and run workshops at more than 20 schools, and designed beginner programming activities for many organisations including OMGTech.